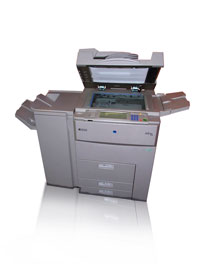 Reell has built a strong reputation of quality, integrity and performance over 43 years by providing both standard and custom engineered solutions in a wide variety of paper handling systems including copiers, printers, scanners, collators, sorters, mailing and finishing equipment.
Our high quality electric wrap-spring clutches are used to provide extremely reliable engagement/disengagement performance in timing-critical applications,  They provide high torque in a small package, low power consumption, consistent cycle-to-cycle timing performance and long life.
Our torque overload devices protect critical components from excessive force by providing consistent torque for controlled acceleration of high speed or high inertia torque applications.
Reell also designs and manufactures a variety of slip devices for paper separation functions, and Reell constant torque devices are used in positioning applications such as access panels and cover hinges.
Applications include:
Paper handling systems for copiers, printers, scanners, collators, sorters, mailing and finishing equipment, positioning of access panels, and covers